Stephen Deroski - 12 songs/ 20 Years
Review- by the Institute for Silent Activity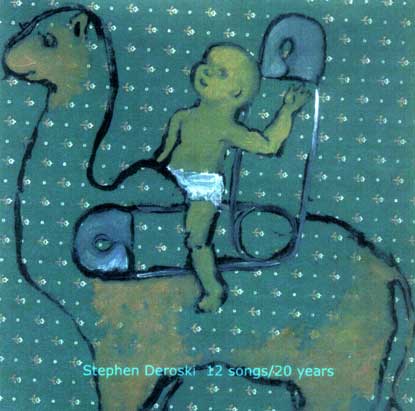 There comes a time in every musician's life when one may wonder, " Have I got what it takes ? "
For Stephen Deroski the answer would be ' Yes. '
12 songs / 20 years is a wonderful collage of work, effort, and time put in. Spanning from his beginnings in 1982 all way to 2004, it shows a consistent ability to grow and evolve with each changing series of years. Not many people can pull off a work like that in one shot, much less have the nerve to attempt it. It has been done here, and I believe that it shows an amazing amount of honesty in the lyrics in relation to the individual. The verse is mature in the sense of letting the listener establish a sense of relation to each song in it's own right.
" Will you want to go ?" -a personal fav which has the college rock hook to it.As these are home recordings, one must admire his ability to nail the tone. Love the bass and the Casio keyboard. The verse is sweet as it askes ...
" will you wanna go in a hour, will you wanna go in a year ?
Oh child march on, in this life what I really want is for you to survive...
Hold your head don't you look down
Oh child march on, in this life what I really want is my own plans
and that has made all the difference to me..."
" Left of the Mississippi "- The witty, post -acoustic punk anthem of a guy in his mid-late 20's, hailing from New Jersey aiming on Cali. I like this one as well.
" Mary Ann"- The feeling of a calm subtle, rock ballad to a lover... I can't write those anymore.
" This is America " - Dude, this is by far one of favs... How he got the tone for this one with a Casio is beyond me. Mainly spoken word, with a kicking back beat, it pulls the frustration from your teeth that you felt when the Millennium got here.
" I figured what's scaring 'em
in the dinosaur aquarium
This is America at the dawn of the new millennium...
You say this can't happen here, it's already happening here
in an election year...
but what's worse is their burning churches... "
Makes for some possibilities...
" Local Color " has a nice blues feel, once again the lo-fi/ so-cal dream people have while driving around from the Inland Empire to the Coast. Actually, this track has a very deep Syd Barrett feel. Nice compliment to any album. Solidwork on the space here as well...one of the stronger tunes
" Shapes " - reminds me of Fall... changing of the trees color guard. The lead in here is nice with the choice of chords as well.
" Three Kisses "- I so miss the brit pop at the end of the 80's- early 90's. I want to say this reminds me of My Sweetest Ache. On of my favs on the CD for sure. A relationship that can't happen, longing for what you know you can't have. Three kisses to her family seem to come way before they'll ever reach your lips.
Listful, and great songwriting on the concept.
" Trickin " - New Jersey boy's trickin. There is much more being said here than I can go into, but I'll say this... Not many people you'll find that can put into words what happens ..
" Tight jeans, tight Tee
cigarettes pack rolled up in the sleeve
Nowhere you can find me tonight, hanging around at the water front
Trickin at the water front, Trickin at the water front
Nice ass I like the way you walk
such a pretty boy..., how much?
Just get it over with beneath the bus
three to look, gotta pay me to touch...
Trickin at the water front, Trickin at the water front... "
Nice Cave with the Legendary Pink Dots...whoa !
Dragon's Egg- I feel like I was in this band, I just know it, but got too drunk or stoned to remember...that was 1989
Golden Egg- Like myself and other friends of mine, one can't compete with Brian Eno's ' Music for Airports '. But, we can write music for rehabs...
As we get to the closing of the CD, we are all reminded that most off us who still can wear docs and keep a straight face, did at one time play in a punk rock band. If you were like us, it was in some po-dunk town... and when punk was really still just coming in ( late 70's / early 80's ). As Stephen does have a couple of years on me, I got humbled when he explained they played this stuff at a hair salon in the mid-west, mainly because it was the only place to play. Kids these days got it sooo easy....
"When we was wee lads it was hair salons and pizza shops... we was working on building a house for the band out of cardboard."
So with " Jonesin for Jesus " & " Much to Lose", Just tell those damn kids to get a boom box and go find a frickin garage.
Stephen Deroski did, and he's got something to show for it.
That no matter how or where you start, it's got to be somewhere.
And there is no better way than to fill your own shoes, hold that head up, and start right where you're standing.
Sooner or later, someone has got to believe you, as much as I believe S. Deroski is a solid songwriter and performer.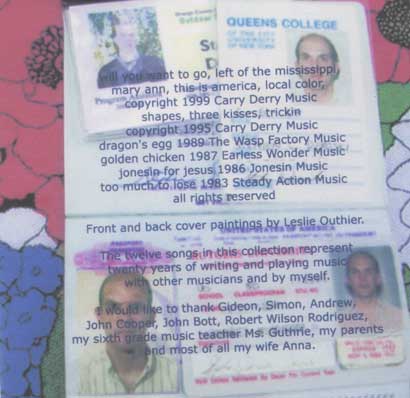 for any ordering info or contact you can reach Stephen Deroski at - sderoski@hotmail.com