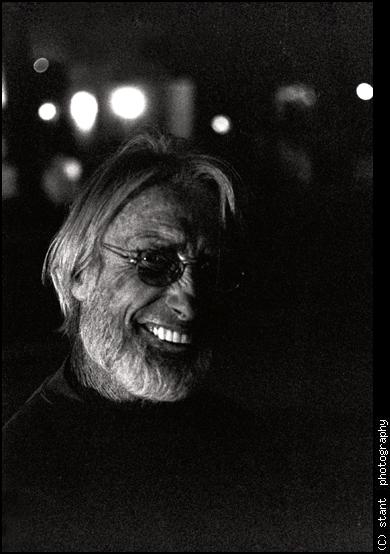 " I love art ; Art is love "
He is a native of French Camp near Lodi and Stockton. Neuharth worked as a technical illustrator during his term in the Air Force. He had also taught art in service clubs in Loan, France in 1960 and exhibited paintings in Paris during that time.
" The Bohemian life in Venice Beach, ( circa. 1950's / 60's ) , had a deep effect on my appreciation of art. I have a deep love for brilliant and bright colors. Many of the paintings I did during this time were done in watercolor, and about this time I began to write poetry, and had started to do sculptures in metal and wood . " Neuharth states.
One of his more obvious inspirations are in his work. Many of his paintings are jazz orientated, dealing with themes of horns, double bass, saxophones, and drums. " It' s free music, very inventive, " he stated.
" Sometimes I paint to it. " Neuharth is a devoted Charlie Parker fan and was also responsible for a Hank Mobley revival in local circles.
Without any real studio, Neuharth has been doing most of his work out of the backyard, using various materials, like anything that will hold his bizarre use of latex house paints. As he experimented with his style, he also adopted the tools of a house painter, using rollers and a technique of dribbling onto his canvas, or onto the roller itself. " It' s just instinctive - I' ve learned to work with a roller like I would a brush or stick, " he said. " Sometimes the kids in the neighborhood get a little curious and look over the fence . "
Gary has studied art, sculpture, and writing at San Bernardino Valley Collage, La Sierra Collage, and at Loma Linda University. He has also had two solo shows at the Feldheym Library in San Bernardino, donated art to the Student Union at the Edinburgh Collage of Art in Scotland, and has been exhibited in many awonderful, surreal space.
If Neuharth had a Gospel to speak, it would sound a little like this :
" I seek to portray the brilliance and beauty of the imagination and life. While living, some only dream, and when that dream is over, they are no longer there. "
For Further Information :
Gary Neuharth
1021 Ohio St.
Redlands, CA
92374 USA
PH# ( 909 ) 793- 9997