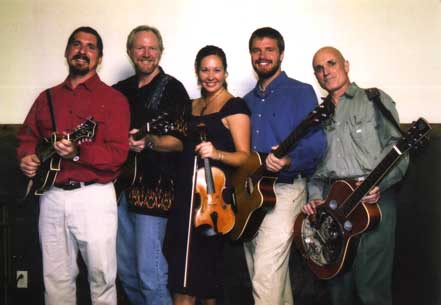 The birth of Mill Creek Expedition
In 1997, Scott Grahm-Howard and Craig Fortune traveled to Wilksboro, North Carolina to experience the Merle Watson Memorial Festival. After 4 days of twelve stages and picking until their fingers fell off, they returned home via Nashville. There, a certain resophonic guitar, or Dobro as it's called, caught Craig's eye, and he found himself testing his friendship with Scott that first fateful night in the hotel room. Fortunately, the sounds of a tortured alley cat that emanated from the new guitar did not deter their friendship, and they arrived safely back in the Southern California Mountains. They were introduced to the then fledgling mandolin player Jason Westfall, and the Mill Creek Expedition was born.
Bass player Pete Zaremba joined the band in fall of 2001, the band was complete. Various fiddle players have also been known to sit in with the MCE.
Influenced by the likes of Alison Krauss, Gillian Welch, and Steve Earle, the MCE plays many styles of folk, as well as introducing some of their own bluegrass and surf-grass.
Need a Bluegrass band for your shin-dig ?
Let us know : Mill Creek Expedition
Tear my Stillhouse Down ( Written by Gillian Welch )
The Graveyard Shift ( Written by Steve Earle )
Note:
I threw these tunes together off of a live recording. They are rough cuts, but it shows the dedication.
iggy
ps. Somebody book these guys. They're a Hoot.
Wanting to help promote Arts Education , bluegrass , and your local bowling ally? :
For any further information, please contact :
The Institute for Silent Activity
P.O. Box 806
Running Springs , CA
92382 USA
or
This site is copyright protected - all rights reserved
© 1999 -2004 Expedition Music / the Chi -chi foundation
' Nobody nobody nobody
never nowhere ever
got anywhere
Perhaps I ?
such an idiot
in the end am not '
-Egon Bondy
(trans. by Marek Tomin)