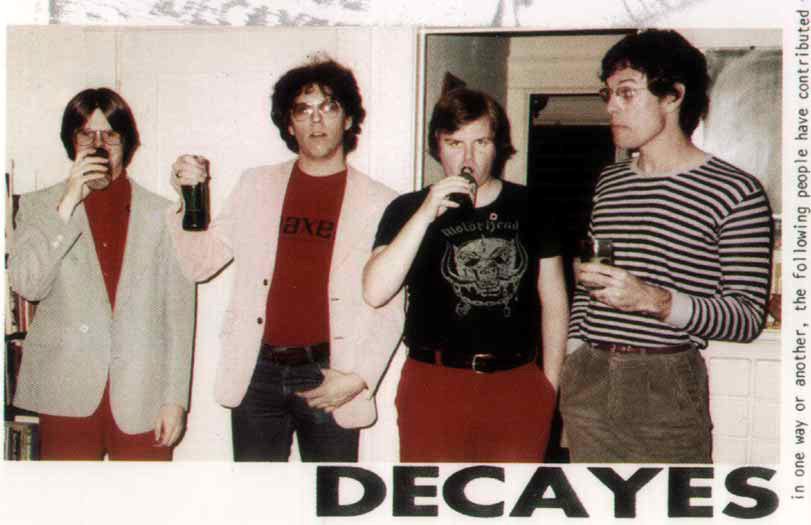 Ever wondered what would have happened if Alan Parsons ate the brown acid during the Atom Heart Mother Sessions? Well kids, fire up the time machine because this album stands up to the test of time. We're gonna imagine Capt. Beefheart is the production coordinator, Frizz Fuller is buying the drinks, and that somebody stole the key to Klark Kent's studio. This has got to be one of the best college rock albums ever made. I have some friends who even lost bowl control when they first heard this, so here is your one and only warning...
Song listings as follows...
Side 1
The Paranoid Department- The song Himmler could have rocked out to while locking himself up in the SS headquarters , snorting meth, and fearing the freemasons. Logan's Run meets Fear and Loathing...
Breeding in Captivity- Music for naked Indian braves who wander downtown LA pondering global population. One of the hot tracks on the disc
' but,dad...'- don't play with any damn robots boys
Dance Hall- XTC would be jealous. It is straight up top notch new wave. the keyboards and bass make their first stand on this track.
What more could you ask for?- the uber mensch anthem. It is all the truth you need to know. Frizz Fuller with the Mothers as a back up band.
The head popped off- The decayes oboe punk tribute to Zappa.
Flamethrower bloodbath- Bring your quarters kids. The pizza place has that Rambo video game and you will die a flaming death trying to steal this guitar tone.
Side 2
Nobody loves me- Could have had the title ' nobody clean loves anyone dirty like me '. A gem indeed, oboe new wave attack.
Out to lunch- hee hee, it starts to get thick like a chunky beef burrito.
horNetZ- Kryptic truth. One of the best damn tracks. It's like pure honey. Your gonna want to get more even if you think you're gonna barf...She said it was stupid, but it wasn't though...
Big Dessert- Skala subscribers?
I don't know, I don't even care why- The tune Klark Kent missed out on. The bass and keyboards are top notch on tone. Even feels a little like early police. Good luck topping this one.
Table for two- A wonderful little piano ditty. One of Herr Florin's best tunes. Great loops and editing at that.
Love me- This could make Anton Maiden blush. Lounge love for the next street fighter game.
track 3
a man and a woman- madness
track 4
how do they know?- work with a Willy and see if somebody will ask where people buy your records... kick ass
track 5
Victor- Once again, Frizz Fuller attack. They should cover 'She took off my Romeos'. Who else could?
track 6
Woody- Music for New Wave recovery centers.
Buy this CD. Everyone I play it for asks 'Who the hell are these guys?'.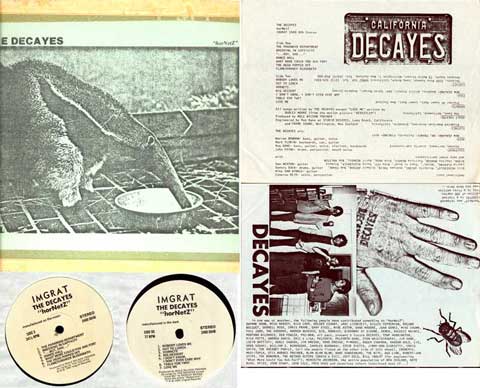 Happy to say I know at least one of them. But I can't say too much about it, besides the fact there is more going on in this album than anyone could ask for.
Long live Krautrock and the California Decayes...Hail!