Is It A Bad Hair Day Revival ?
( ....or the band that never dies . )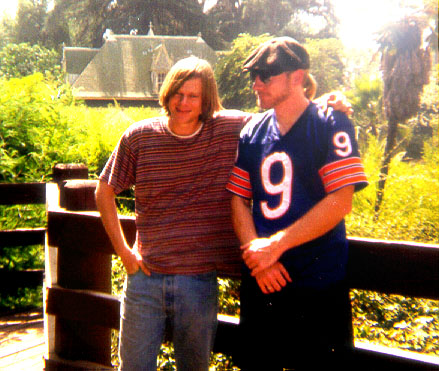 ( photo by : Christie )

It has happened again . Thomas always comes back with more time after time . The big question is ... is it good ?

Tom and I recently hooked up near Kimberly Crest in the park a few weeks ago . Although the CD 's have been floating around , I hadn 't seen him in something like a year and a half , maybe more . Phone conversations , and the occasional , ' Was ist los ? ' , we decided to put in a day at one of Redlands finer parks . The old garage was just up the street , I had a feeling it was going to be interesting .

We meet at the Redlands Bowl and split . We get to Prospect Park and get right to business . I always get a kick out of wondering if the new stuff that I hear cooking for the band is going to be the same line , or if some kind of new birth will emerge . The last five years of this band has been nothing more than a production salvaging process . One can tend to get tired of saving the same old stuff . But what I heard that day was not the product half a half -mad , hell bent for alcohol dementia , it was actually fresh . The man is always a little difficult to deal with , that comes with the territory , but this little outing was quite refreshing .

Songs like ' Sister Rose Marie ' , ' The Quieter Man ' , and the other one that mentioned ' King Leary ' where the guy actually makes it to space ... the breaks and chord structure emanates an early flare for this song writer . The guy has his own distinct style , but what always gets me is the hooks and popish savant which I love writing and recording to . The SCI -fi lyrical approach mixed with acoustic morose satire is my idea of fun . On top of this I love the fact that this guy can not seem to write about anything else but space , death , sea , and children ( to name a distant few . )

I tried desperately to get a hold of Tom and managed a few minor questions :

Q:What was it like with the last recordings with BHD?
A: Some yielded excellent tracks and results. There was much more sobriety,
but we pounded some things very much into the ground. My memory of this
time's a little bit hazy.

Q:What were the highlights?
A:Seeing my friends again, being creative, and getting out.

Q:how do you find yourself these days?
A:Very insecure and ashamed of my insecurities.

Q:How does it feel getting older?
A:Hopefully getting older for me will be what aging is to wine, but who
knows? I still find myself wondering who I am and that's despite me knowing
what I'm about. It's very scary approaching 30 and having not gone to school
or done much with my life. My dreams no longer convince me, they're dying
soon.

Q:What does it feel like, being an established group and songwriter in the
Inland Empire for the last 8 years?
A: Eight fucking years ago...But anyway, this question is more a form of
compliment than a question for me. It seems like more of an answer! (It's
great.)

Q:How do you feel about recent BHD releases?
A:They're a fascination for me, especially "The Sick Child." What a nice,
crystal clear recording! As a matter of fact, the recent two CDs sound very
good. ( the Bookshelf EP & the Hurly Burly demos )

Q:What do you see in the future for this project?
A:Probably more covers, and refinements and improvements. I don't know...what
I see looks like a blank, semitransparent wall. What I see on the other side
of it isn't clear to me, as the recording of "The Sick Child "is. I hope to
see some shows! More recordings! Better air!

Keep an eye open for Bad Hair Day over the holidays . Rumor has it we might play an open mic at the Falconer in Redlands .

New material is due for release this coming summer with both BHD and a solo release for Tom .

Gigs on the coast seem to be in order as well ...

Fin.