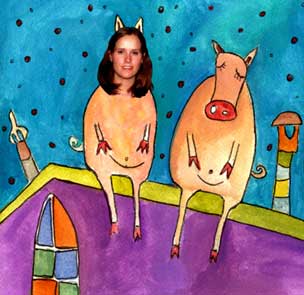 Making art for me is almost like a dream in itself. Overtime, I have fallen in love with the process.
When I sleep, I cannot wait to awake to create and when I am awake I daydream about the moments when my busy schedule will allow me to do so. As a child, growing up in Mexico City, I remember the endless desire I had to build and play. As a teenager I discovered art, which gave me a sense of passion. At seventeen, leaving my family to come to the United States to pursue Art College, leaving my family and a culture that believes that women should never leave home, defined my art. In graduate school becoming an educator, created a new desire to pass on my knowledge to children. In my adulthood, I have developed a craving for telling my life story and other types of stories to children and adults through color and vivid imagery.
At this moment, I do not consider art my profession, but an essential part of my survival in a world that is full of change. My future is unknown, yet I do hope to always have paper and paint handy in case of an emergency.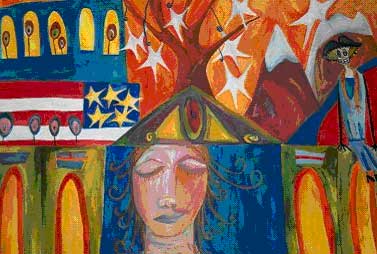 "Self-Portraits are not innocent reflections of what artists see when they look in the mirror.
They are part of a language artists use to make a point, from the mirror, from the simple 'this is what I look like' to the complicated 'this is what I believe in." Bozello-
For any further contact , order catalogs , or information
please contact :
Amanda Casares
2392 Servando Ave #138 • San Deigo, CA 92154
or e-mail
This site is copyright protected - all rights reserved
© 1999 -2004 Casares Art / the Chi -chi foundation
Nobody nobody nobody
never nowhere ever
got anywhere
Perhaps I ?
such an idiot
in the end am not '
-Egon Bondy
(trans. by Marek Tomin)